Einlass: 20:00 Uhr
Beginn: 21:00 Uhr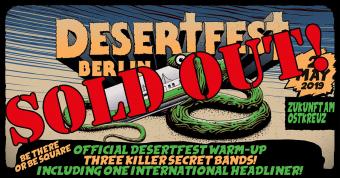 AUSVERKAUFT! SOLD OUT!
DESERTFEST WARM-UP
+ THREE KILLER SECRET BANDS
Stoner \ Rock \ Metal
Behold: Desertfest 2019 is dawning! Why not celebrate with a super special bonfire on our freshly announced OPENING NIGHT ON MAY 2ND at ZUKUNFT AM OSTKREUZ!

You wanted the best, you got the best! Our completed Desertfest 2019 Line Up is pretty much the best we had in the history of Desertfests. This year we are planning on being better and more diverse as we have ever been for you: Inside, outside and even on the water, as we opened one new extra area on an abandoned ship.
This means three days complete Psych and Stonerrock Mayhem, headbanging, beerdrinking, movin ' & groovin' and meeting old and new friends -  but wait: Can't stop  - won't stop!
Or better - can't stop  - will start one day early! How about setting the sails towards planet rock one day ahead - cause we all know Berlin is the city that never sleeps, am I right?

On Thursday the 2nd of May you'll be able to kickstart your weekend off early with family, friends and fans and THREE FANTASTIC SECRET BANDS - and don't underestimate the word secret here!
Due to different circumstances we are not allowed to announce the headliner of our opening beforehand but be sure that they will completely blow your socks off! In fact this band is almost a Desertfest headliner itself and for only 16 € you might get the chance of a lifetime to see them in such an intimate environment.
So saddle your horses a day early, come out to play on the night before Desertmass  - and to be honest, you wanted to take that friday off anyhow, didn't you?