Einlass: 18:30 Uhr
Beginn: 19:00 Uhr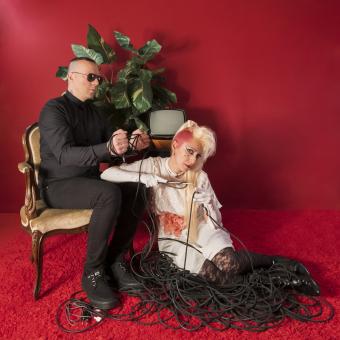 SELOFAN + QUAL
+ SARIN
Electro-Minimal \ Dark Wave \ EBM
A well-known purveyor of allusive, synth-infused coldwave music and the driving force behind the Greek label, Fabrika Records, SELOFAN followed the siren call of the 80's goth sounds and minimalism, carving out their own spot at the forefront of independent wave music scene. The seasoned hunters constantly digging for new dramas and passions to grace their visual intention and musical charm, the band specialize in deep, cold & racy analog sounds- but have always been favored along with howling vocals, well-distilled synths and heartbroken sax- when it comes to the occasional shootout between genre trenches.
———————————————————————————————————————————————
QUAL: Lebanon Hanover's William Maybelline solo project. His darker, gloomier and heavier synth electro EBM sound. It has been clear from the start Maybelline always was inspired by the harsher sides of music. It touches on the goth, industrial and even the techno scene. Qual is welcoming a post-apocalyptic nuclear winter. With terror and restless chaos cometh the digital age condemned to be digitally transformed. Cometh hybrids, mutated humans a depletion of organics.
———————————————————————————————————————————————
ULTRA SUNN is a contemporary band from Brussels, Belgium formed in 2019.
After their successful first track "Night Is Mine", the duo released their first 4-track EP in March 2021 on Oraculo Records including a remix by Berlin DJ SARIN. Quickly sold-out, this first EP was repressed in April 2022, including a remix by Kontravoid while the band was performing all over Europe.
Their second EP "Body Electric", released on the German label Cold Transmission, including the single "Young Foxes" confirms the style of ULTRA SUNN, quickly reach number 1 in Coldwave sales on Bandcamp and stays several weeks in the top 10 of the german charts.
Sam's deep and dark voice unfolds over Gaelle's carefully tailored setup of analog synthesizers and industrial drum machines.
Active in classical arts and fashion shows, these inspirations are reflected in their work. The couple is haunted by a Coldwave, New Beat and modern EBM energy.
Witnesses of their time, the band creates dancing, luminous and hypnotic hymns about gender equality, self improvement and fight against anxiety, Always with an inclusive, powerful and positive spirit.