Einlass: 19:00 Uhr
Beginn: 20:00 Uhr
Abendkasse: 25,00 €
Vorverkauf: 20,00 €
(zzgl. Gebühr)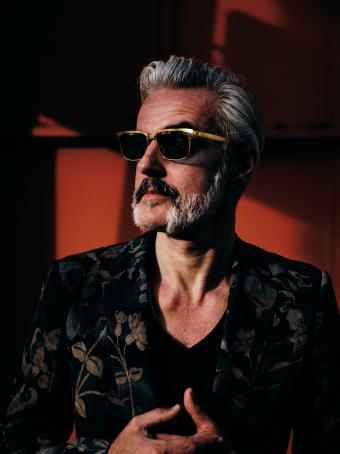 RUBEN BLOCK (Triggerfinger / Solo)
"Looking To Glide Tour"
+ MOONEYE (Solo)
SingerSongwriter \ Rock
It wouldn't have been Plato who said: "To do good solo work, you need to consult someone else", but it is nonetheless true. 
See the case of Ruben Block: a super-talent and rock star in Belgium, the Netherlands and neighbouring countries, dedicated singer/guitarist and frontman of rock phenomenon Triggerfinger.
To be even more himself and to make his first solo record, he consulted a Great: Mitchel Froom, American, producer of and conspirator with Crowded House, Elvis Costello, Suzanne Vega, Paul McCartney, Los Lobos, Sheryl Crow and - yes - Triggerfinger.
At that time, Froom was a founding member of the Latin Playboys, an occasional group with members of Los Lobos, and creators of a rootsy, experimental rock sound that inspired Block.
Block found the ideal sparring partner in Froom to get closer to himself. The music he makes as Ruben Block is erratic, sometimes dark,
sometimes equipped with almost cubist-sounding riffs, armed with small vocal hooks, and texts in which light and darkness take each other by the hand and form a strange dance.
Froom beautifully described that combination of gloomy and cheerfulness as Ruben's "instinct to keep the worry out of it".
"With this project, it was really important that the joy stays in there - even on the dark songs."
And voilà, there you have it: the "project" became an album where music lovers can have a lot of fun in the long run.
It's not instant soup, nor instant coffee music, but songs that have been worked on for a long time and with growing pleasure. 
From the Bowie-esque guitars of "Turning on a fan" to the falsetto voices of "Looking to glide", from the mysterious percussion tapestries in "Doing love" to the final song, "Showtime", which simply dares to be beautiful. 
Each song is a discovery tour, with details in arrangements and instrumentation, findings that reveal themselves along the way, and several interesting layers.
Meanwhile - no worries - there is also energetic rocking, as in the advanced single "Lights".

Much beauty, many intelligent instincts, much Ruben Block, which through Mitchell Froom came closer to himself. And in the process, it blows up the tent.