Einlass: 19:00 Uhr
Beginn: 20:00 Uhr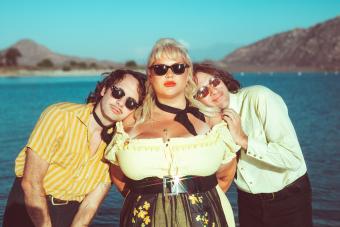 SHANNON AND THE CLAMS
+ APOLLO
Indie \ Garage \ Punk
It wouldn't be wrong to say that Shannon & the Clams was formed by accident. Just outside the invisible borders of Oakland's warehouse music scene, Shannon Shaw was absorbed in studying illustration at California College of the Arts, a 100-year-old institution that draws freaks into the city from across the country. For many, the school serves as a gateway into the sprawling music underground that agitates beneath the Bay Area, as a hub for fliers for illegal parties in backyards, basements, and overpasses.
During a bout of depression, Shannon took up a neglected bass guitar that had been a gift from an ex-boyfriend years earlier and played it for the first time, writing in a raw and untrained way. The urge to perform these songs soon took her to open mic nights around the East Bay, eventually recruiting a band, and Shannon & The Clams was born.
Over the last decade, Shannon and her chief collaborator, guitarist Cody Blanchard, have released five albums of Bay Area vintage garage-rock, including the remarkable 2018's Onion, their Dan Auerbach-produced debut on his label Easy Eye Sound. Shannon & The Clams current incarnation includes Nate Mahan on drums and Will Sprott on keyboards, and their live show has developed a zealous following that craves their particular authenticity and innovation on classic sounds.