Einlass: 19:00 Uhr
Beginn: 20:00 Uhr
Abendkasse: 25,00 €
Vorverkauf: 22,00 €
(zzgl. Gebühr)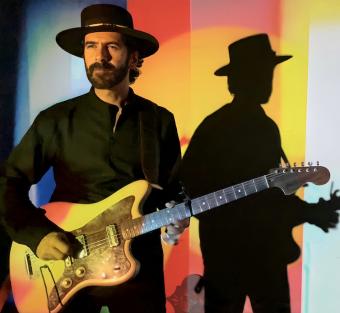 GITKIN
+ HUTCH
SingerSongwriter
Gitkin's music exists somewhere between primal, rootsy memory and distant exotic yearning — A dusty bordertown where the familiar blends imperceptibly into the enchantingly foreign.
After a long and fruitful run as a bandleader with relentlessly touring party-rockers Pimps Of Joytime and a Grammy-nominated country blues collaboration with Cedric Burnside, multi-instrumentalist Brian J set out to "explore tonalities I'd never messed with," as he puts it.
Reviews of Gitkin's first two LP's grappled with descriptors, tagging it vaguely as "cinematic" and comparing it favorably with Khruangbin. True, the music is largely wordless, emotionally evocative, and guitar driven. But it possesses an alluring alchemy all its own.
Gitkin's first release, 2018's well-received Five Star Motel, amply demonstrated his ease with earthy funk and comfortably-cut rhythm. On his follow up album, Safe Passage, the itinerant guitar slinger broadened his already rich palette with melodies informed by Greek and Middle Eastern modalities, Peruvian Chicha and Tuareg Saharan guitar styles. No gimmick, this juxtaposition of gut- bucket blues and funk low-end with unexpectedly twisting lead phrases highlights the intense flavors found in each savory ingredient.
Gitkin's production radiates character and warmth, leaning on soft-focus vintage mics, dubby spring reverbs and the quirks of an analog tape machine.
Gitkin is slated to release his third full length album on March 17, 2023 with singles dropping leading up.