LARK
Einlass: 20:00 Uhr
Beginn: 21:00 Uhr
Abendkasse: 26,00 €
Vorverkauf: 22,00 €
(zzgl. Gebühr)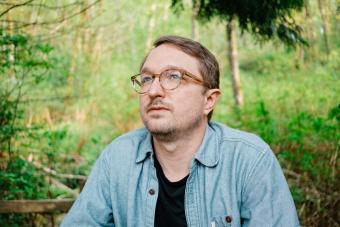 CHRIS STAPLES
+ HANDSOME GHOST
SingerSongwriter \ Akustik \ Folk
With his sixth full-length album, "Cloud Souvenirs," American singer-songwriter Chris Staples offers up a slew of indie/folk melodies — not only nurturing the restless heart and curious soul, but also providing a portal for the listener to sit, immerse and disappear into.
"Memories are souvenirs we carry around with us," Staples says. "They remind us of where we came from, and who we are. Memories are also like clouds in a way. They slowly change and our interpretation of them is everything — they are subjective."
Recorded in his native Florida, "Cloud Souvenirs" conjures what it means to be a musical artist in the incessant white noise and unrelenting digital distraction of the unfolding 21st century, something Staples has pursued in the music industry for over 25 years.
"I've always made songs as a way of coping. Life is a little chaotic, and writing songs are an attempt at making some sense of all of this" the 44-year-old says. "A lot of my songs have some resolve to them, where they're the final answer to the problem I've been working out. And I think some people take comfort in these songs because of this."
With a central theme encircling the idea of "the now," and how it applies to the existential trials and tribulations of daily life, Staples brings forth his timeless sense of self and continued purpose —signature traits in his ongoing journey of truth and connectivity.
"Time becomes more valuable when you have less and less of it. My mother passed away recently, and it's gotten me thinking about how quickly life moves by," Staples says. "All of this has given me a renewed sense of urgency. I want to use time more wisely, whether that's by being productive or being in the moment with people that I love."
At its core, "Cloud Souvenirs" is a key timestamp for Staples, where his ever-evolving craft of lyrical aptitude and intricate sonic textures are once again woven together seamlessly with his own personal curiosities and discoveries as a human being — the essence of the universe itself.
"The world still wants and needs songs," Staples says. "The role of the songwriter nowadays is to be uniquely themselves — listeners need a sense that there is someone real on the other end of the line."