Einlass: 20:00 Uhr
Beginn: 21:00 Uhr
Abendkasse: 20,00 €
Vorverkauf: 17,00 €
(zzgl. Gebühr)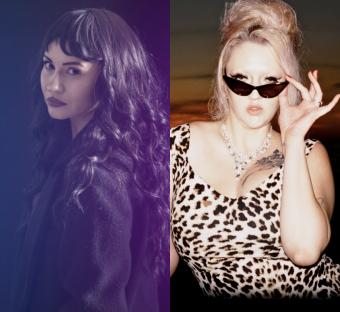 FRANKIE ROSE + SRSQ
Alternative \ Indie \ Pop
FRANKIE ROSE:
After spending nearly two decades establishing herself across New York and Los Angeles independent music circles, Frankie Rose returns after six years with a fresh form, aesthetic, and ethos embodied in her new full-length album "Love As Projection." Celebrated by countless critical and cultural outlets over the years for her expansive approach to songwriting, lush atmospherics, and transcendent vocal melodies and harmonies, "Love As Projection" is a reintroduction of her established style through the new lens of contemporary electronic pop.
Painstakingly written, recorded, and engineered through some of the most tumultuous times in history, this new collection of songs harnesses the power and propulsion of Frankie's early DIY-centric punk days without losing sight of the immersive, dreamlike world-building she's been known for in recent years. Her love of new wave hooks and post-punk drive remain omnipresent, elevated by her utilization of modern production and an improved, polished palate of state-of-the-art instrumentation.
It's more than a rebirth, a refinement, a resurgence – it's a culmination of influence, a newly-defined scope using the tools at her disposal, a long-form project that was heavily considered for half of a decade – resulting in the most personal and accessible collection of art-pop that Frankie has delivered yet, propelling her signature melodies and dense, ethereal harmonies into the future.
______________
SRSQ:
SRSQ (pronounced seer-skew) is the moniker of singer, musician, and elemental force Kennedy Ashlyn. From foundational years as co-founder of visionary shoegaze duo Them Are Us Too (alongside the late, lamented Cash Askew) through her growing body of solo work on Dais Records, she has steadily honed her multi-octave range and moodswing songcraft into an increasingly potent poetic voice. 2019's celebrated debut, Unreality, showcased a deepening gift for melodic dynamics and emotive exorcism – a mode she half-seriously coined "griefwave." The album's passionate response prompted extensive live dates, further sharpening her natural performative instincts.
2022 further confirms Kennedy as an essential generational talent, able to synthesize private struggles and sorrows into stirring, redemptive anthems. Hers is a music of tumult and triumph, darkest night breaking into brightest dawn, where anguish blurs and becomes acceptance. SRSQ's seeds have only just begun to bloom; looming tours, videos, and more will inevitably hasten an already radiant refinement.

"Dedication to my work will be my saving grace, and ultimately I'll destroy the bullshit ideas of who I am or how I have to be, and experience true freedom."