Einlass: 20:00 Uhr
Beginn: 21:00 Uhr
Abendkasse: 15,00 €
Vorverkauf: 12,00 €
(zzgl. Gebühr)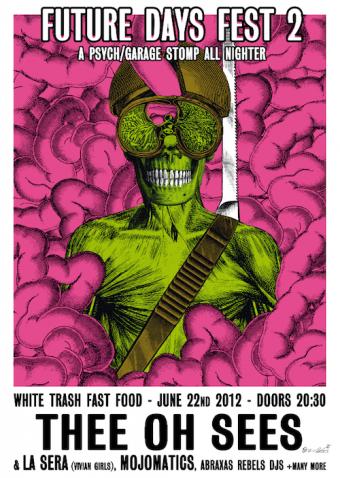 FUTURE DAYS FEST II
Future Days in cooperation with Greyzone Concerts present:
THEE OH SEES + LA SERA + THE MOJOMATICS
Garage Rock \ Alternative \ Indie
THEE OH SEES
What's the first thing you think of when someone mentions Thee Oh Sees? Probably their riot-sparking live show, right? Visions of a guitar-chewing, melody-maiming John Dwyer careening across your cranium, rounded out by a wild-eyed wrecking crew that drives every last hook home like it's a nail in the coffin of what you thought it meant to make 21st-century rock 'n' roll?
Yeah, that sounds about right. But it misses a more important point—how impossible Thee Oh Sees have been to pin down since Dwyer launched the project in the late '90s as a solo break from such sorely missed underground bands as Pink and Brown and Coachwhips. (While Dwyer still records songs on his own, Thee Oh Sees is now a five-piece featuring keyboardist / singer Brigid Dawson, guitarist Petey Dammit, drummer Mike Shoun and multi-instrumentalist / singer Lars Finberg.) That restlessness extends to everything from the towering, thirteen-minute title track of 2010's Warm Slime LP to the mercurial moods of 2008's The Master's Bedroom Is Worth Spending a Night In.
Now, Thee Oh Sees chase the home-brewed symphonies of Castlemania with the scrappy, high-wire hooks of Carrion Crawler / The Dream. Originally envisioned as two EPs, it was cut live to tape in less than a week at Chris Woodhouse's Sacramento studio in June, reflecting the battering-ram bent of the band's live show better than any bootleg ever could. "As I'm sure most would agree," explains Dwyer, "Castlemania was more of a vocal tirade. This one's meant to pummel and throb."
That it does, whether one blasts the slow, speaker-bruising build of "The Dream," the sunburnt organs and dovetailing guitars of "Crack in Your Eye" or the interstellar instrumental "Chem-Farmer," a perfect example of what happens when one takes a well-oiled machine—a gang of rabid road warriors, really—and adds a second, groove-locked drum set to the mix. To listen is to realize that Dwyer's music is as manic as the underground comic inclinations of his artwork; colorful and confusing in a way that's more than welcome. It's downright refreshing, like a slap in the face at 5:00 in the morning. Or, as Dwyer puts it, "You have to leave a mark somehow."

THE MOJOMATICS
The Mojomatics from Venice in Italy have released four albums, the latest being "You Are The Reason For My Troubles", and a bounch of singles for many labels all over the world.
They have played hundreds of concerts across Europe and is becoming known as one of the coolest garage rock band from around here. Well, garage might not be the right term as The Mojomatics heap together hillbilly blues, old country, folk and bluegrass, inject it with the melody of British Invasion pop, and fire it all out with the breakneck energy of the best garage/punk/rock n' roll.

LA SERA
La Sera's Sees The Light follows 2011's masterful self-titled debut with ten new tracks of peppy break-up pop brimming with defiance and bitter sweetness. On album opener "Love That's Gone," the vocals and drumbeat linger for seconds, swaying in the wind while the guitar cuts through, charming you, pulling you by your shirt and telling you that it is time to move on. This is a break-up album for the best kinds of break-ups. There's a lightness of touch, too, that surround the harmonies throughout and makes one yearn for the days of Donna Lynn, Julie Ruin and The Shirelles. But before you can settle into your seat, La Sera delivers a one-two punch - a rip of rolling snare and sending you speeding off in a fast car. Seize the light.
La Sera's lyrics are smart but not heavy; phantasmal, like Daniel Johnston attending church every week of his teenage life, but with a bigger sophistication and a shiny, polished fidelity. Lead single "Please Be My Third Eye" buzzes with an intensity and beauty rarely heard outside the first three Vivian Girls albums. (Not so surprising: La Sera IS Katy Goodman IS one-third of Vivian Girls.) "I Can't Keep You In My Mind" is Shop Assistants great - just a genius straightforward refrain and sympathetic guitars to play it through.
Where the first La Sera album was super-dreamy in its layered vocals, Sees The Light is more direct, more aggressive; almost a soundtrack to a lost drive-in movie classic. This is not an album for half-hearted partakers in the heartache scene: just an all-consuming love for punk as pop and pop as punk. Songs such as "Don't Stay" soar away into the stratosphere, solemn and possessed of singular beauty. "Real Boy" is playfully driven in comparison: like being whisked away to a tropical island, while "Drive On" is tear-laden and full of hidden menace like a David Lynch film.