Einlass: 21:30 Uhr
Beginn: 22:00 Uhr
Abendkasse: 8,00 €
Vorverkauf: 6,00 €
(zzgl. Gebühr)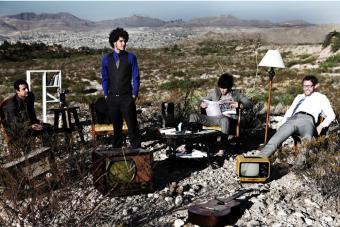 ZECHS MARQUISE
Experimental \ Progressive \ Rock
Zechs Marquise, the El Paso, TX quintet are back with their sophomore album Getting Paid, bringing an intensified swagger to the band's multifaceted psych-prog haze for their most aggressive and versatile effort to date. "We liked that hip-hop attitude," explains drummer Marcel Rodriguez-Lopez of the album title. "Getting your piece, taking yours." And, Getting Paid certainly finds the band fully taking charge of their musical destiny.
Zechs Marquise toured extensively throughout the U.S., proving to be a formidable live act supporting Omar Rodriguez Lopez Group and RX Bandits as well as leading their own headlining tours. Zechs Marquise have also grown considerably in other ways. Recent addition Rikardo Rodriguez-Lopez on keyboards and trumpet joins his brothers, drummer Marcel and bassist Marfred alongside guitarists Matthew Wilkson and Marcos Smith contributing to the band's expanded sound. Getting Paid also integrates vocals on select songs, including guest performances by vocalist/guitarist Matthew Embree (RX Bandits, The Sound Of Animals Fighting) and El Paso singer Sonny Baker.
Getting Paid will be available everywhere on LP/CD/digital on September 27th on Rodriguez Lopez Productions via Sargent House.