Einlass: 19:00 Uhr
Beginn: 20:00 Uhr
Abendkasse: 15,00 €
Vorverkauf: 13,00 €
(zzgl. Gebühr)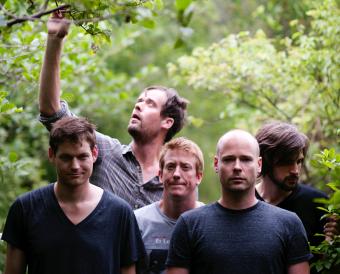 CASPIAN
+ THISQUIETARMY
Post-Rock \ Instrumental \ Experimental
The Beverly, MA post-rock quintet Caspian will release their forthcoming album - Waking Season - this fall on Make My Day Records (Germany / Austria / Switzerland) and Triple Crown Records (Rest of World). The album was co-produced by Matt Bayles (Minus The Bear, Mastodon, Mono).
"Waking Season is our way of attempting to pose questions that can reconcile what is with what was - what could have been with what actually is. It is a conscious experiment in reconciling the innocent sense of wonder that derives directly from the cosmos with the cold- modern truth that life is not a collection of consistently gripping events, or easy answers" says Caspian's Philip Jamieson.
Waking Season is the followup to their 2009 album Tertia (Mylene Sheath / Make My Day Records). The album marks the first time that the band has worked with an outside producer as well as the first time that the group has incorporated vocals into their arrangements.
"We wanted to shake things up and work in a different type of environment - the kind of environment where it wasn't just us calling the shots all the time. Working with someone who had the credibility to challenge the way we heard the songs outside of our own bubbles was extremely important to us for this record. Matt (Bayles) has a way of pulling the pieces together to make them sound crystal clear, sharp and balanced without removing any raw energy from a track. Working with him was a humbling and enlightening experience and we feel like it really benefited the album. We've never been dogmatically opposed to vocals and have always wanted to incorporate them. We approached experimenting with vocals on Waking Season like we would with any other instrument and found that some of the songs benefited from the presence of a human voice."
To celebrate the forthcoming release of Waking Season, the band has posted a free download of their Live At Old South Church album at www.caspianmusic.net. The album was recorded at a benefit concert for Amirah, a non-profit organization located in Boston that is dedicated to providing whole-person care for the victims of human sex tafficking.
Since 2006, Caspian have released three studio albums, one live album and performed over 500 concerts in 30 countries across 3 continents. In order to promote their new record, Caspian will tour US and Europe this autumn.