Einlass: 20:00 Uhr
Beginn: 21:00 Uhr
Abendkasse: 17,00 €
Vorverkauf: 14,00 €
(zzgl. Gebühr)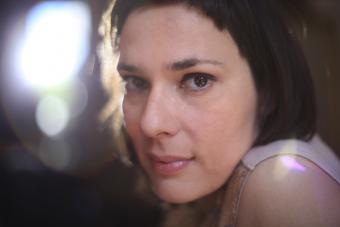 LAETITIA SADIER
+ DORIAN PIMPERNEL
Indie \ Post-Rock \ Pop
SILENCIO! It's been 2 years since we took THE TRIP with Laetitia Sadier. Her first true solo album since exiting the bedrooms of Monade, THE TRIP breathed freshly and deeply as both a personal homage to life's journey and as a grieving process for the separations that are unavoidable within it. Born from a similar, natural need for stillness as well as agitation, Laetitia now delivers her follow-up LP, SILENCIO — an album exploring the individual connection to a deeper self placed in a broader environment, in a similarly fresh kind of way.
SILENCIO! That noise preventing your connectivity comes from society — the noise of commercialism and the marketplace overwhelming your ability to cut deeply inward, prohibiting your inner-connections. SILENCIO may help you understand how to resist the rules of these systems, but only if you listen!
The album opens with "The Rule of the Game," a song inspired by Jean Renoir's 1939 film LA RÈGLE DU JEU, thematically taking the ruling classes' responsibility for the rise of fascism as its focus. "Auscultation to the Nation" comments on the monetary system, literally translated from a rant by a France Inter phone-in listener who questioned the political legitimacy of our monetary leaders. Who needs leaders when you have friends and cohorts? SILENCIO features some exciting collaboration: "Next Time You See Me" is a new jammer with former Stereolabber, Tim Gane; and musical drifter- man James Elkington provides writing for two tracks, "Fragment pour le future de l'homme" and "There Is A Price To Pay For Freedom (And It Isn't Security)," in addition to recording and playing on much of the record. Need some other freaky names? OK! Sam Prekop shows up mysteriously. But that's a story for another time.
We're more concerned with the singularity of Laetitia Sadier. That voice, the one that reaches you and wraps you up each time you hear it. Calm, direct. Cool and hot. If you're unable to attain an inner connection with yourself, Laetitia will connect to it, for you. SILENCIO is your human modem. SILENCIO was recorded in Toulouse, France and Chicago between December 201 and February 2012, except the closing track, "Invitation au silence," which was recorded in a church in South- West France. Spoken in both French and English, "Invita- tion au silence" coaxes the listener to "sample some silence...(and)...listen how resonant with truth silence is." We couldn't agree more! SILENCIO is truth and resonates with us as it will with you. Sample some SILENCIO, the newbie from Laetitia Sadier!